Phytochemical Screening, Antioxidant and Antibacterial Studies of Various Extracts of Maranta arundinacea L rhizomes
Keywords:
Maranta arundinacea, phytochemicals, antioxidant, antimicrobial activity
Abstract
Background: Due to widespread availability, low cost, safety, and little side effects, herbal medications are now more often used than ever before. Medicinal plants with various pharmacological effects may be found in a variety of places in nature. An herbaceous, perennial tropical plant known as Maranta arundinacea L. offers a number of built-in medical benefits, including efficacy as an antioxidant and an antibacterial.
Objectives: This plant's rhizome extracts were tested for phytochemical analysis, antioxidant capacity and antibacterial efficacy against some Gram-negative bacteria.
Methodology: In the current work, phytochemical analysis of M. arundinacea rhizome's various extracts was done by standard methods and its free radicals scavenge activity was assessed by using the well-known (in-vitro) model of DPPH while antibacterial activity was estimated by the disc diffusion method.
Results: Phenols, flavonoids, saponins, tannins, alkaloids, glycosides and steroids were found in the M. arundinacea rhizome extracts after a preliminary phytochemical screening, which may be the source of the plant's antioxidant and antibacterial action. The percentage inhibition (DPPH) of its water extract (80.11±3.2%) was higher than methanol extract (70.20±2.5%) followed by chloroform (37.50±1.8%) and petroleum ether extract (20.40±1.4%) at concentration 1mg/ml. The minimum inhibition zone developed against Enterobacter aerogene was (16±0.01mm), Salmonella typhimurium (19±0.03mm), Pseudomonas aeruginosa (18±0.02mm) and Escherichia coli (24±0.04mm), in methanolic extract, while the inhibition zone developed against E. aerogene was (18.5±0.02mm), S. typhimurium (19.5±0.03mm), P. aeruginosa (20±0.03mm) and E. coli (29±0.05mm), in water extract and no inhibition zone was developed in petroleum ether and chloroform extract.
Conclusion: It was concluded that M. arundinacea rhizome water and methanol extracts posses a strong antioxidant and antibacterial activity due to its phytochemicals which may offer an option for the treatment of illnesses linked to oxidative stress and for pathogens that are resistant to a number of drugs.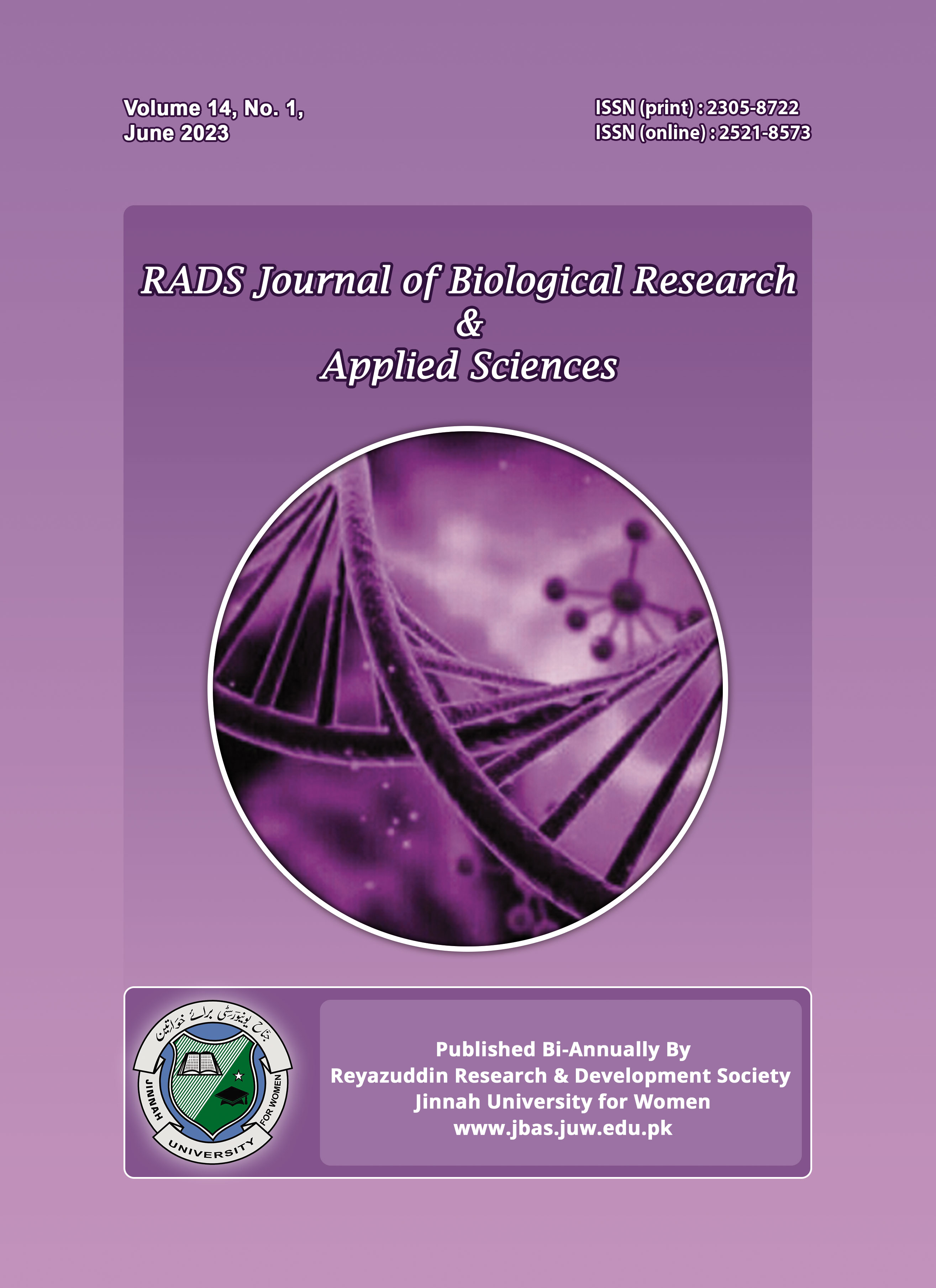 License
Copyright (c) 2023 RADS Journal of Biological Research & Applied Sciences
This work is licensed under a Creative Commons Attribution-NonCommercial 4.0 International License.

This is an Open Access article distributed under the terms of the Creative Commons Attribution License (http://creativecommons.org/licenses/by/4.0), which permits unrestricted use, distribution, and reproduction in any medium, provided the original work is properly cited.