Aflatoxin Concentrations in Various Rice Varieties of Punjab, Pakistan
Nasir Ishaque Tahir

Department of Chemistry, Lahore Garrison University, Lahore, Pakistan

Shabbir Hussain

Department of Chemistry, Lahore Garrison University, Lahore, Pakistan

Imran Kalim

Food & Biotechnology Research Center, Pakistan Council of Scientific and Industrial Research (PCSIR) Labs, Lahore, Pakistan

Amina Asghar

Department of Chemistry, DSNT, University of Education Lahore, Pakistan

Shahzada Khurram Syed

Department of Basic Medical Sciences, School of Health Sciences, University of Management and Technology, Lahore, Pakistan

Muhammad Amin Idrees

Department of Physics, Riphah International University, Faisalabad Campus, Pakistan

Muhammad Ameen Ahmad

Department of Chemistry, Lahore Garrison University, Lahore, Pakistan
Keywords:
Aflatoxins, Branded, Nonbranded, Punjab, Pakistan, Rice.
Abstract
Background: Mycotoxins are secondary fungal metabolites that are produced in rice, corn, nuts and several other cereals. The contamination of food stuff by mycotoxins is a cause of numerous diseases throughout the world. Aflatoxins are potent mycotoxins that have chronic and acute toxicity.
Objectives: To evaluate the presence of aflatoxins B1, B2, G1 and G2 in branded and non-branded rice varieties available in Punjab, Pakistan.
Methodology: Total 150 rice samples were collected in May 2019 from various cities (Islamabad, Rawalpindi, Gujar Khan, Jehlum, Kharian, Gujrat, Gujranwala, Lahore, Kasur, Okara, Sahiwal, Mian Channu, Khanewal, Multan, Bahawalpur and Rahim Yar Khan) of Pakistan. All the rice samples were subjected to physical testing methods, followed by extraction (using chloroform extraction method) and qualitative and quantitative detection of aflatoxin using Thin layer Chromatography (TLC) Technique and Enzyme linked Immunosorbent assay (ELISA).
Results: No aflatoxins was detected in branded rice varieties which were stored in good packaging. The aflatoxin B1 (AFB1) was detected in 65% of poorly stored rice varieties, with maximum contamination of 8.92ppb. The lowest moisture 9.4% content was found in (branded samples) and 10.9% (non-branded samples) while highest moisture content 10.8% found in (branded samples) and 16% found in (non-branded samples). The 54 out 100 non-branded samples found to have more than 13% moisture contents which is alarming.
Conclusion: With the implementation of effective strategies and special precautions during storage, harvesting, transportation, drying and harvesting, we can prevent the contamination of rice product with fungi and stop aflatoxin production which is a major threat to country economy.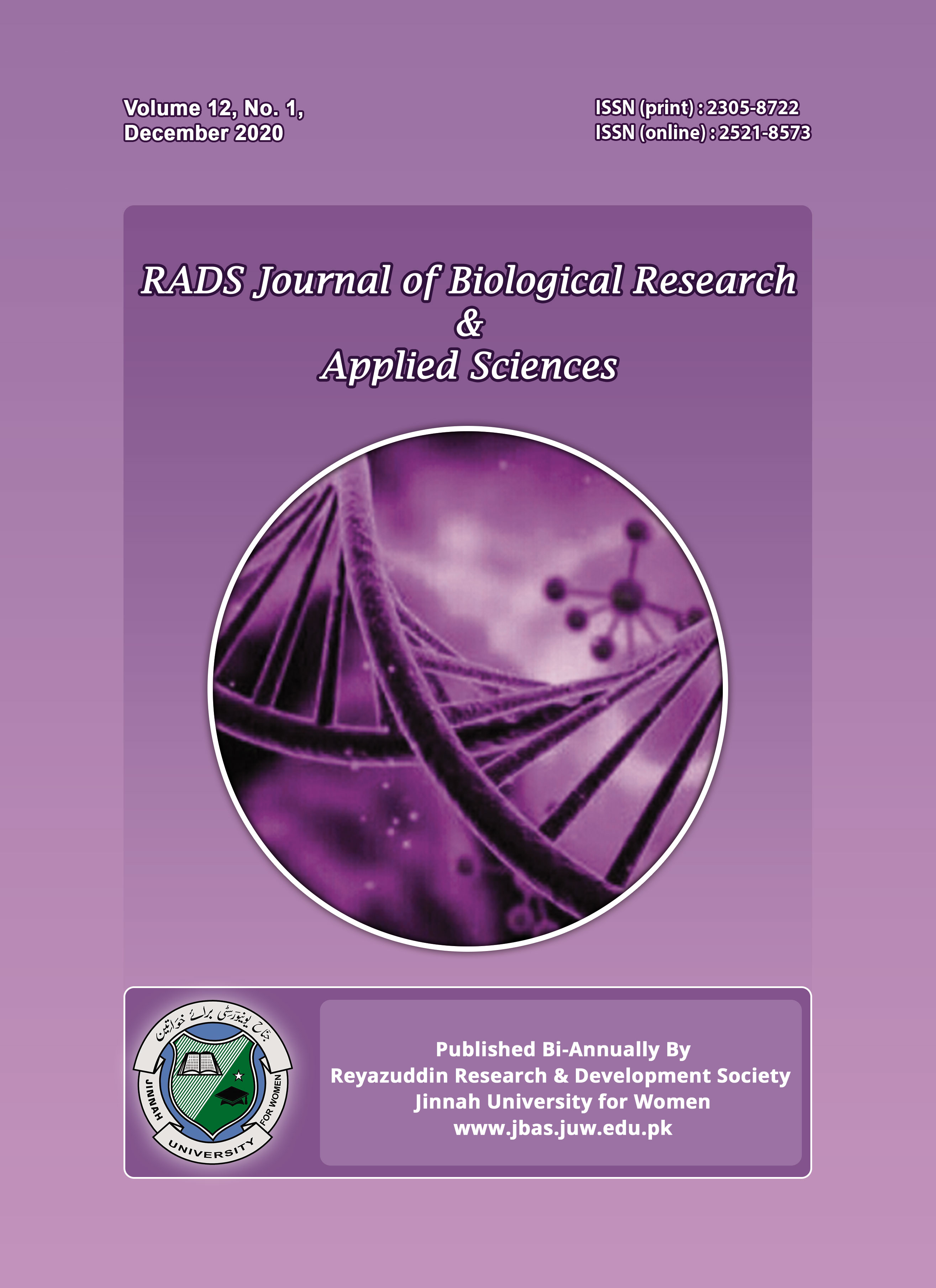 Copyright (c) 2021 RADS Journal of Biological Research & Applied Sciences
This work is licensed under a Creative Commons Attribution-NonCommercial 4.0 International License.

This is an Open Access article distributed under the terms of the Creative Commons Attribution License (http://creativecommons.org/licenses/by/4.0), which permits unrestricted use, distribution, and reproduction in any medium, provided the original work is properly cited.