Prevalence and Antibiotic Susceptibility Profiling of MDR Pseudomonas aeruginosa from UTI Patients of Southern Punjab, Pakistan
Iqra Arooj

Department of Microbiology & Molecular Genetics, The Women University, Multan, Pakistan.

Aysha Asghar

Department of Microbiology & Molecular Genetics, The Women University, Multan, Pakistan.

Mehvish Javed

Department of Microbiology & Molecular Genetics, The Women University, Multan, Pakistan.

Amina Elahi

University Institute of Medical Laboratory Technology, University of Lahore, Lahore, Pakistan.

Asghar Javaid

Department of Pathology, Nishtar Medical University, Multan, Pakistan.
Keywords:
Antibiotic sensitivity, Multidrug resistance, Nosocomial infections, Pseudomonas aeruginosa, Susceptibility, Urinary tract infection.
Abstract
Background: Urinary Tract Infections (UTIs) are of major concern in health care settings. An increasing percentage of organisms causing nosocomial infections have now become multidrug resistant. Hence, constant surveillance of etiology and antimicrobial susceptibility of uropathogens including Pseudomonas aeruginosa is compulsory.
Objective: Main purpose of this study was to assess the prevalence rate of various pathogens, and to evaluate the multidrug resistance pattern of Pseudomonas aeruginosa in UTI patients of Southern Punjab, Pakistan.
Methodology: A cross-sectional study was performed to obtain quantitative data of UTI patients, for which one hundred and fifty (150) urine samples were obtained from UTI patients admitted to Nishtar Hospital, Multan. Samples were processed for culture, bacterial isolation and identification. Antibiotic sensitivity of P. aeruginosa isolates was determined in agreement with Clinical Laboratory Standard Institute Guidelines.
Results: Prevalence of UTI was greater in females (59%) when compared to males (41%). Among 150 urine samples, uropathogens isolated were Escherichia coli-50(33.33%), followed by Klebsiella pneumoniae-27(18%), Proteus spp.-15(10), Staphylococcus saprophyticus-13(8.66%), Staphylococcus aureus-11(7.33%), Pseudomonas aeruginosa-10(6.66%), Enterobacter spp.-9(6%), Candida albicans-8(5.33%) and Citrobacter spp.-7(4.66%). Antibiotic sensitivity profiling of Pseudomonas aeruginosa revealed highest sensitivity to cefixime (80%), followed by gentamicin (70%), piperacillin/tazobactam (60%) and nitrofurantoin (40%). Conversely, maximum resistance was observed against amikacin (80%), followed by ciprofloxacin (60%), imipenem (50%) and amoxicillin (50%).
Conclusion: Knowledge of dynamic etiology and ever-changing drug resistance patterns is essential for appropriate management and treatment of UTIs necessitating their exploration on a regular basis.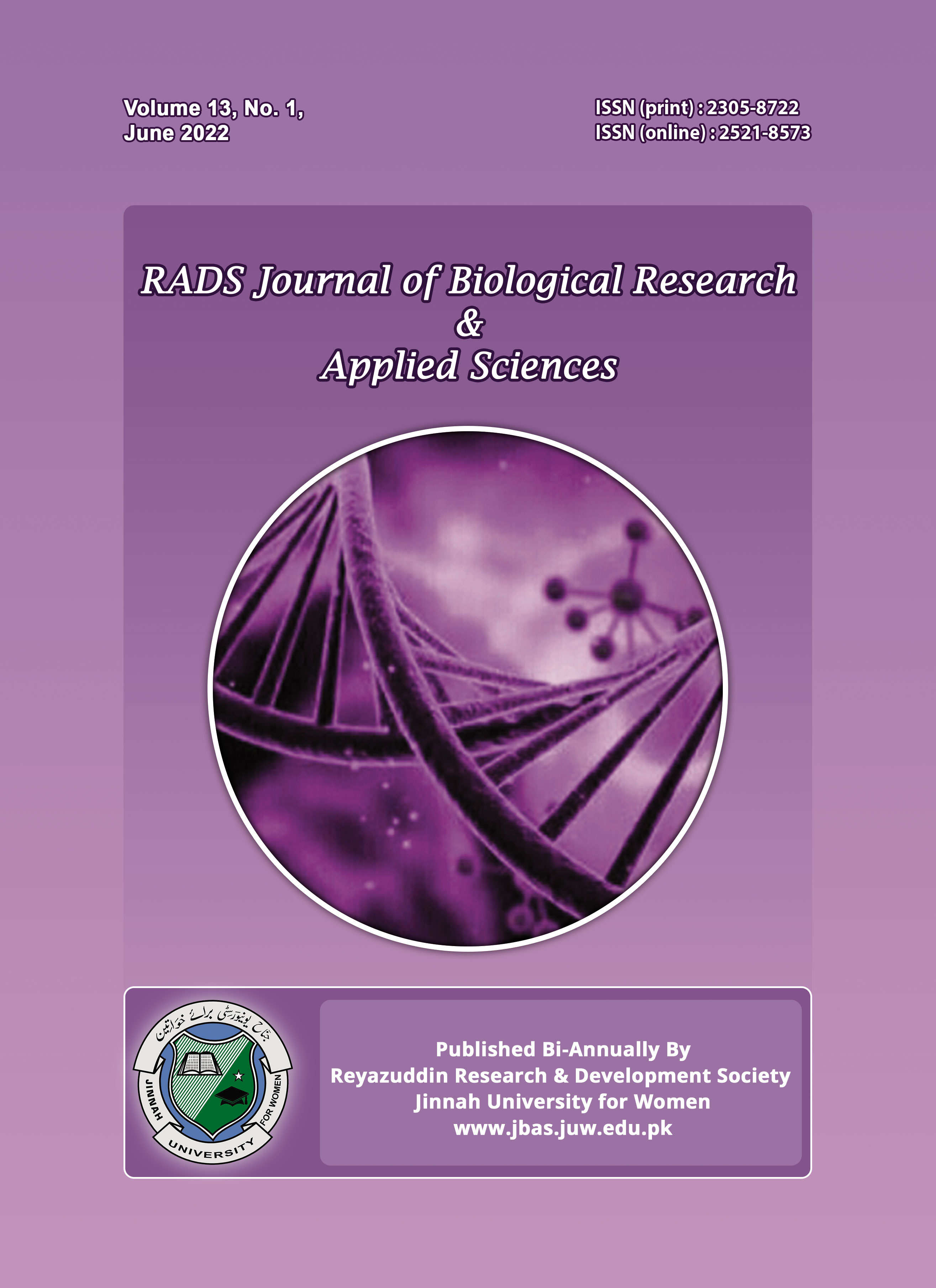 Copyright (c) 2022 RADS Journal of Biological Research & Applied Sciences
This work is licensed under a Creative Commons Attribution-NonCommercial 4.0 International License.

This is an Open Access article distributed under the terms of the Creative Commons Attribution License (http://creativecommons.org/licenses/by/4.0), which permits unrestricted use, distribution, and reproduction in any medium, provided the original work is properly cited.