Age, Gender, and Seasonal Effects on Thyroid Profile in Adults with Normal Thyroid Functions
Sajjad Ahmad

Department of Pathology, Quaid-e-Azam Medical College, Bahawalpur, Pakistan.

Haji Muhammad Rashid

Department of Chemical Pathology, University of Health Sciences, Lahore, Pakistan.

Hiza Hassan

Department of Medical Lab Technology, University of Haripur, Pakistan.

Muhammad Mujahid

Pathology Department, BSL-3 Lab, DHQ Hospital Sargodha, Pakistan.

Maryam Gul

Microbiology Department, Kohat University of Sciences and Technology, Kohat, Pakistan.
Keywords:
Age, FT3, FT4, Gender, Seasons, TSH.
Abstract
Background: Thyroid hormone variations have been observed according to age and sex. Seasonal effects also induce variations in thyroid function even in people with normal thyroid levels. The majority of clinical laboratories follow a single reference range without the consideration of age, gender, and especially seasonal variations in thyroid function tests.
Objectives: To evaluate age, gender, and seasonal variations in thyroid function tests in adults with normal thyroid functions.
Methodology: This cross sectional study was carried out at Pathology Department, Quaid-e-Azam Medical College, Bahawalpur. One year data from Jan 2018 to Jan 2019 of thyroid function tests (TSH, T3 and T4) and demographic details were obtained for all those patients whose Thyroid Stimulating Hormone (TSH) was in normal reference range (0.5-4.5mU/L). We found the data of 418 subjects from 16 to 75 years of age, among them 196 were females and 222 were males.
Results: Serum TSH levels were higher in females (2.11mU/L ±1.54) than serum TSH levels of males (1.59mU/L ±1.2) with a p-value of 0.0002. FT4 levels (normal range: 0.89-1.76ng/dL) were significantly lower (p-value 0.0018) in females (1.33ng/dL ±0.50) as compared to males (1.48ng/dL ±0.48). In <20 years of the age group of both genders, serum TSH was at lowest levels, while highest in 20-40 years of the age group of males and >60 years of females. The mean TSH of all subjects was high (2.98mU/L) in winters and it was low (2.4mU/L) in autumn. FT4 was at the lowest level (1.16ng/dL) in winters and it was highest (1.46ng/dL) in summers. FT3 levels in the winter season were higher than in other seasons.
Conclusion: Age, gender, and season affects the thyroid hormones levels, and these factors should be considered while interpreting the lab results of thyroid function tests.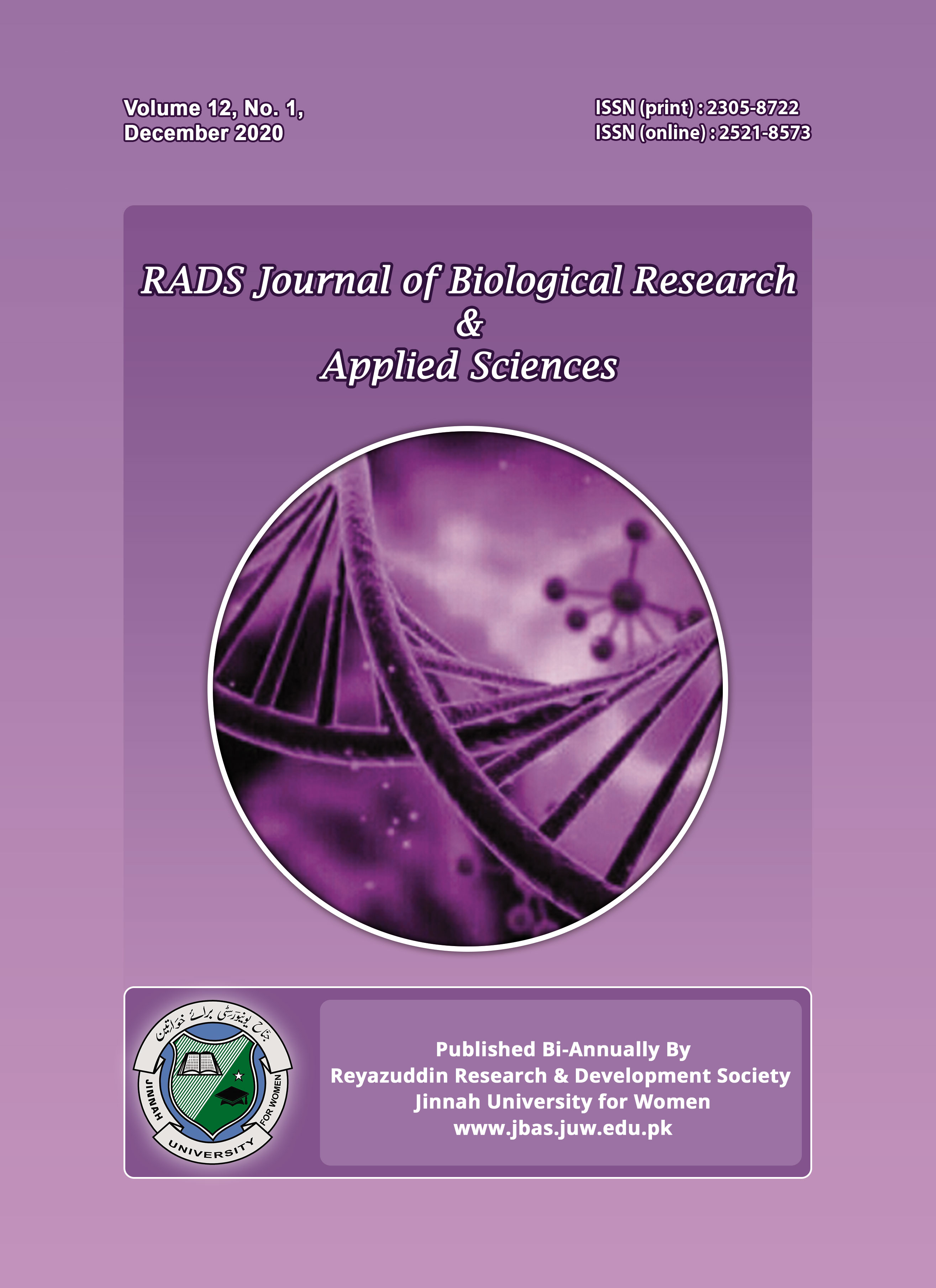 Copyright (c) 2021 RADS Journal of Biological Research & Applied Sciences
This work is licensed under a Creative Commons Attribution-NonCommercial 4.0 International License.

This is an Open Access article distributed under the terms of the Creative Commons Attribution License (http://creativecommons.org/licenses/by/4.0), which permits unrestricted use, distribution, and reproduction in any medium, provided the original work is properly cited.