Phytochemical Analysis and Antibacterial Activity of Nicotiana tabacum and Nicotiana rustica
Muhammad Tariq

Department of Chemistry, University of Swabi, Anbar 23561, Khyber Pakhtunkhwa, Pakistan

Zubair Ahmad

University of Swabi

Sher Ali Shah

Department of Chemistry, University of Swabi, Anbar 23561, Khyber Pakhtunkhwa, Pakistan

Zainab Gul

Institute of Physical Medicine and Rehabilitation (IPMR), Khyber Medical University, Peshawar, Khyber Pakhtunkhwa, Pakistan

Shahid Ali Khan

Department of Chemistry, University of Swabi, Anbar 23561, Khyber Pakhtunkhwa, Pakistan
Keywords:
Antibacterial Studies, Nicotiana tabacum, Nicotiana rustica, Phytochemical Analysis, Secondary Metabolites.
Abstract
Background: All over the world, natural products containing different secondary metabolites have been used for antibacterial purposes, and as folk medicines with significant effects. Amongst many different plants, Tobacco plants are cultivated all over the world, but natively belong to America. These plants contain variety of secondary metabolites and possess significant antibacterial activity.
Objectives: To conduct phytochemical analysis and measure the antibacterial potential of Tobacco plants Nicotiana tabacum and  Nicotiana rustica  using their extracts.
Methodology: Multiple chemical tests such as Wagner's test and Fehling's test were used to determine the presence of different types of secondary metabolites. Both plant species were also screened for their antibacterial activity using agar well diffusion method.
Results: Phytochemical analysis of the extracts from both plant species i.e. Nicotiana tabacum and Nicotiana rustica  indicated the presence of secondary metabolites including tannins, alkaloids, terpenoids, saponins, steroids, and flavonoids. Significant antibacterial activity of both plant extracts was observed against Staphylococcus aureus, but not against Escherichia coli.
Conclusion: It can be concluded that both plant extracts showed the presence of secondary metabolites, with significant inhibitory effect observed against Staphylococcus aureus, and no effect against Escherichia coli.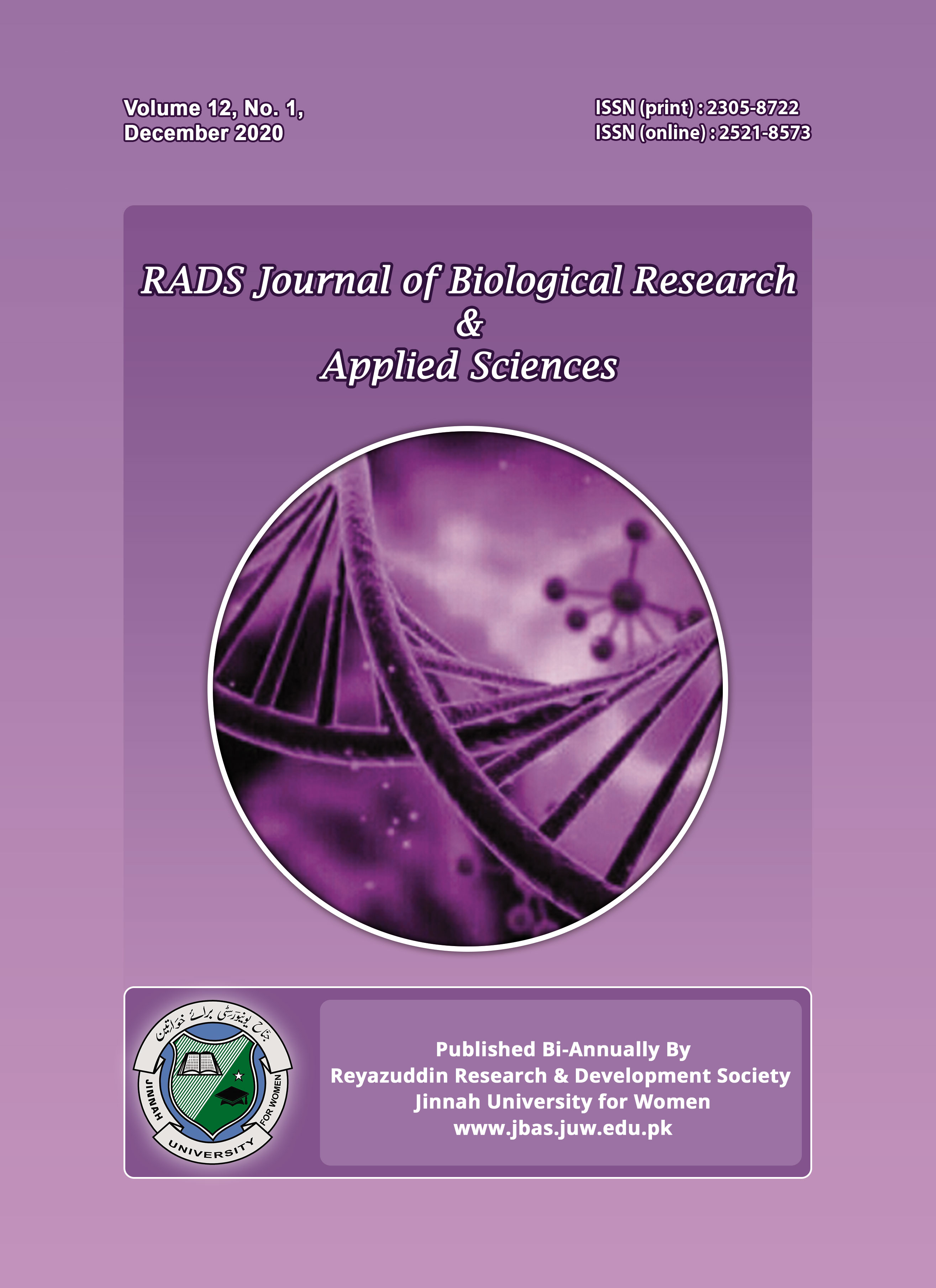 Copyright (c) 2021 RADS Journal of Biological Research & Applied Sciences
This work is licensed under a Creative Commons Attribution-NonCommercial 4.0 International License.

This is an Open Access article distributed under the terms of the Creative Commons Attribution License (http://creativecommons.org/licenses/by/4.0), which permits unrestricted use, distribution, and reproduction in any medium, provided the original work is properly cited.