Antidiabetic Potential of Aloe barbadensis Miller
Makkia Saleem

National Institute of Food Science and Technology, University of Agriculture, Faisalabad, Pakistan

Mian Kamran Sharif

National Institute of Food Science and Technology, University of Agriculture, Faisalabad, Pakistan

Roma Saleem

National Institute of Food Science and Technology, University of Agriculture, Faisalabad, Pakistan
Keywords:
Aloe vera, Diabetes, Gel, Herbal medicine, Leaf, Latex.
Abstract
Background: Diabetes mellitus (DM) is a metabolic disease of the endocrine system, characterized by chronic hyperglycemia, resulting either from insulin resistance or defective insulin production due to dysfunction of pancreatic β-cells. Approximately 80% of diabetic patients live in developing and underdeveloped countries. Pakistan is ranked on 7th position regarding the prevalence of DM. In developed nations, DM is the 4th leading reason for death. Several conventional and traditional methods i.e., allopathic medicines, herbal and medical plants have being used to treat DM and its complications for several decades. Diet-based approaches are considered safe, economical, and sustainable by individuals suffering from various health disorders.
Objectives: The current review has been generated to highlight and compare the utilization of various conventional and traditional methods i.e., allopathic medicines, herbal and medical plants as an alternative source to treat DM and its complications.
Methodology: Existing relevant literature (both research / review articles) published in last many years was looked over numerous sources like Google Scholar, Medline, PubMed, Research Gate, Science Direct, Scopus and Web of Science.
Results: Complementary and Alternative Medicine (CAM) is considered a holistic approach for the treatment of Diabetes that combines the use of dietary supplements with herbs. Worldwide, approximately 30% of DM patients and 50% in Pakistan are using CAM. Aloe vera (AV) is known as a "miracle plant" and extensively used in commercial products. AV contains numerous bioactive components such as vitamins, saponins, salicylic acid, minerals, lignin, enzymes, anthraquinones, and amino acids which are responsible for health-promoting activities in the body. Isolated bioactive components have extensively been employed in nutraceuticals and pharmaceutical items and claimed to have antioxidant potential. Phytosterol compounds such as phenol and cycloartenol have claimed to downregulate the synthesis of fatty acid and increases the oxidation in the liver that in results decrease in lipid deposition.
Conclusion: From the above analysis, it is therefore concluded that the utilization of herbaceous plants as medicine can be encouraged to treat and prevent numerous health problems.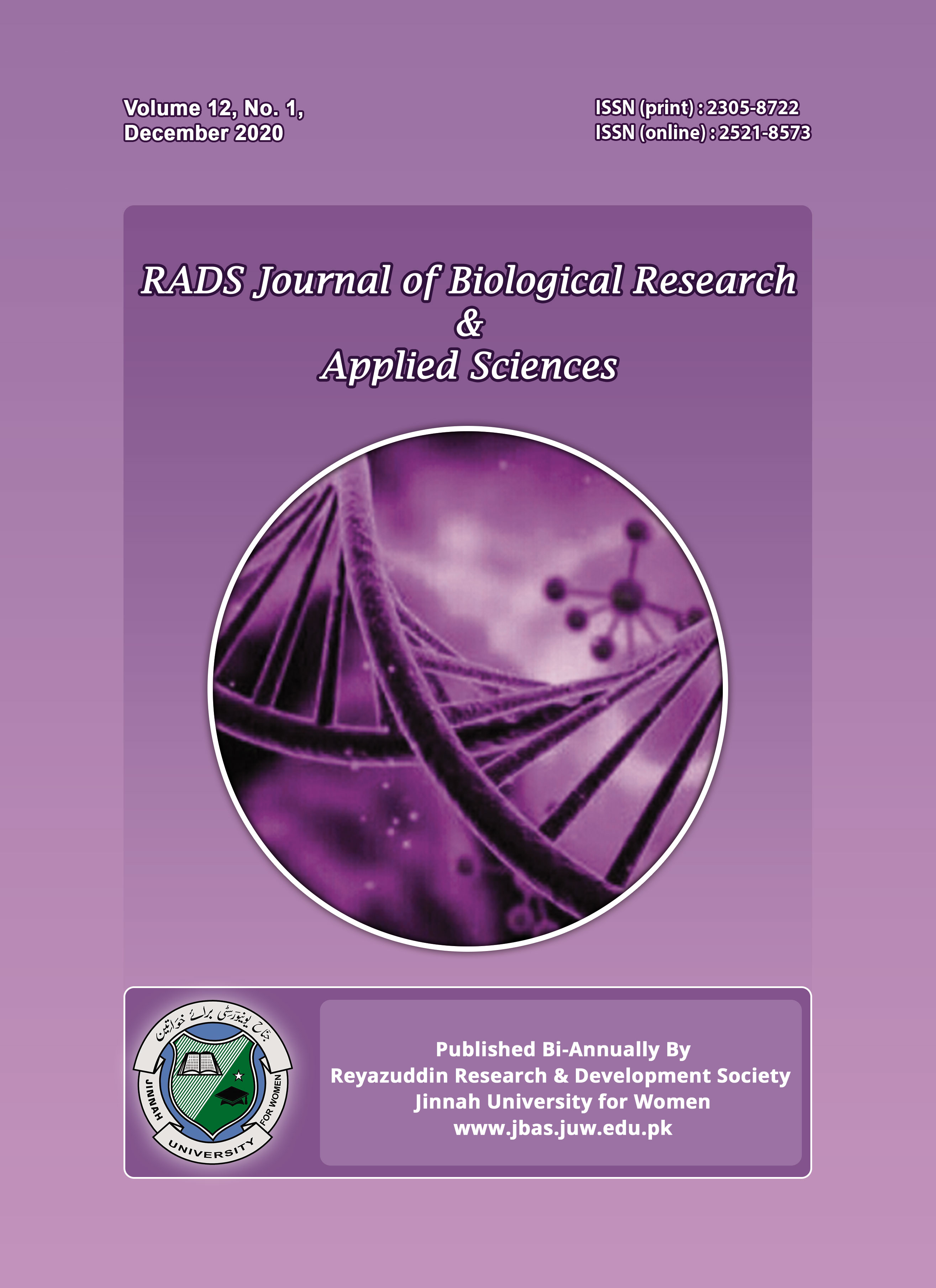 Copyright (c) 2021 RADS Journal of Biological Research & Applied Sciences
This work is licensed under a Creative Commons Attribution-NonCommercial 4.0 International License.

This is an Open Access article distributed under the terms of the Creative Commons Attribution License (http://creativecommons.org/licenses/by/4.0), which permits unrestricted use, distribution, and reproduction in any medium, provided the original work is properly cited.