Eco-Taxonomic Study of Family Poaceae (Gramineae)
Muhammad Nauman Khan

Department of Botany, Bacha Khan University Charsadda, Charsadda, Pakistan

Sajjad Ali

Tabassum Yaseen

Sami Ullah

Akhtar Zaman

Majid Iqbal

Sikandar Shah
Keywords:
Grasses, Systematic, Biological Spectra, Tribes, Abundant Class, Charsadda.
Abstract
Background: The study of species diversity, its conservations and extinction can be done by using systematics in plant biodiversity. Poaceae is a very diverse grass family with great economic importance as it contains crops like rice, maize, oats, wheat, etc.
Objectives: The current study was undertaken in district Charsadda during 2017-18 in flowering season to collect different grass species from the area.
Methodology: Grass specimens were gathered, preserved, mounted and then identified from the available literature/native flora (Flora of Pakistan). Ecological parameters like habitat, class, life cycle and biological spectra were determined. A total of 51 taxa comprised of 34 genera, 5 subfamilies and 11 tribes of grasses were collected from the District Charsadda. The subfamily Panicoideae was the leading family with highest number of genera, taxa and tribes, followed by Pooideae.
Results: The biological spectrum showed that in the life-form class, therophyte had the highest number of species 32 (62.74%), followed by hemicryptophyte having 13 species (25.49%). In the Leaf size class, microphylls were dominant with 24 species (47.05%) followed by nanophylls having 14 species (27.45%). The adaptational survival of plants showed that 32 species (62.74%) were terrestrial and 19 species (37.25%) were amphibious in our study. The Life-cycle class depicted that 33 species (64.70%) were annual, 17 species (33.33%) were perennial and 1 species (1.960%) was annual or perennial. The Palatability class showed that 35 species (68.62%) were highly palatable, followed by less-palatable 11 species (21.56%), non-palatable 2 species (3.921%) and moderately palatable 3 species (5.882%). The Abundant class were determined through species rating scale in ecology Acfor (Abundant Common Frequent Occasional Rare) scale to describe species abundance in a given area; 26 species (50.98%) were occasional, 12 species (23.52%) were frequent, 7 species (13.72%) were rare, 5 species (9.803%) were common and only 1 species cynodon dactylon (1.960%) was abundant in the whole area and present everywhere in the research area in every season.
Conclusion: It has been concluded from the study that unwise collection, over-grazing, over-exploitation, over-consumption and overutilization are major biotic factors, which affect the diversity of the grasses in the area and affect the populations' sustainability on the earth crust. Therefore, the study aims to document and explore wild grasses from the area, which might help in future researches. This survey will be helpful in identifying plant wealth and status for their exploitation on systematic approaches and scientific basis.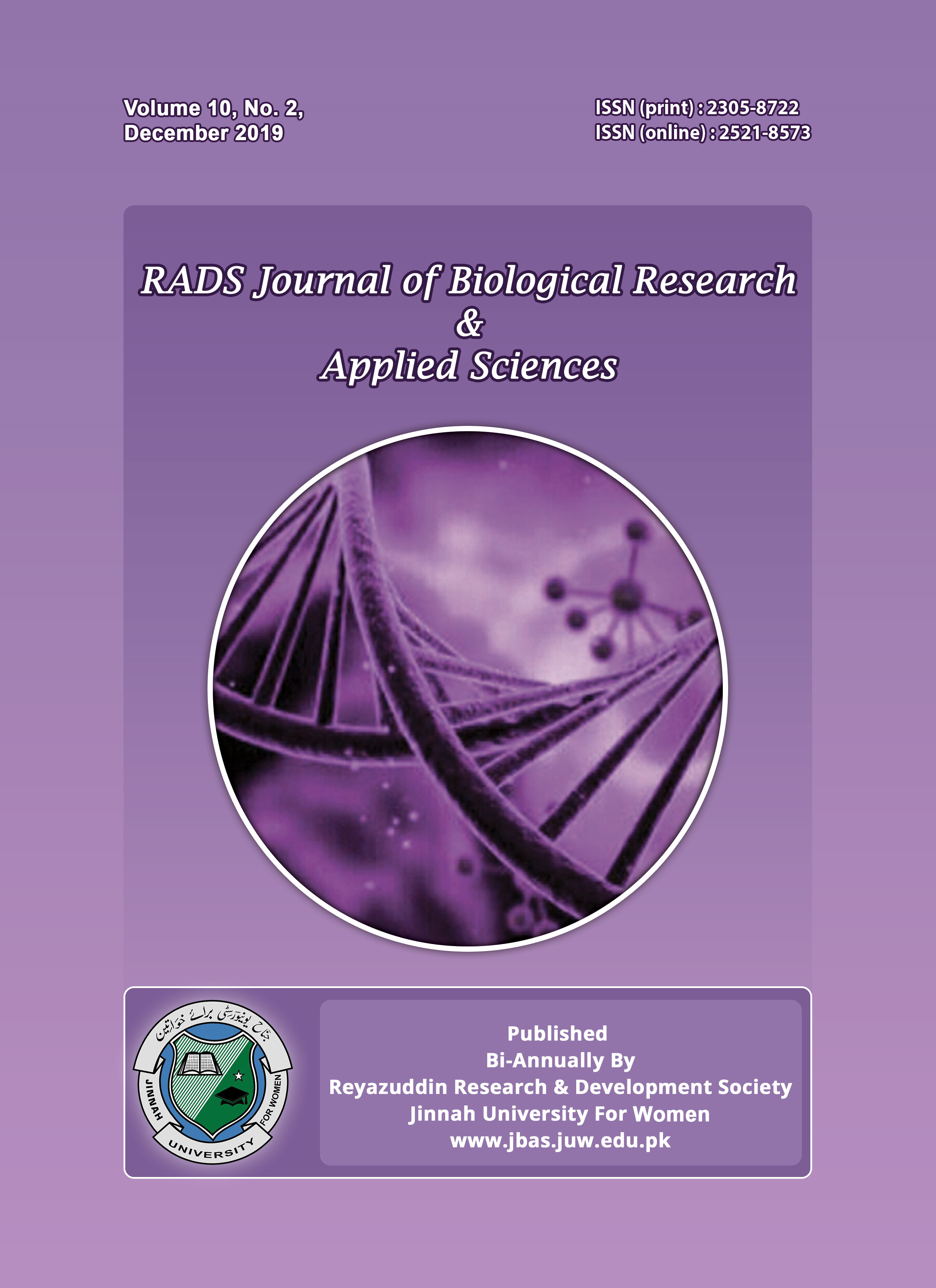 Copyright (c) 2020 RADS Journal of Biological Research & Applied Sciences
This work is licensed under a Creative Commons Attribution-NonCommercial 4.0 International License.

This is an Open Access article distributed under the terms of the Creative Commons Attribution License (http://creativecommons.org/licenses/by/4.0), which permits unrestricted use, distribution, and reproduction in any medium, provided the original work is properly cited.