Machine Learning Based Statistical Analysis of Emotion Recognition using Facial Expression
Aqib Ali

Department of Computer Science and IT, Glim Institute of Modern Studies, Bahawalpur, 61300, Pakistan.

Jamal Abdul Nasir

Department of Statistics, GC University Lahore, 54000, Pakistan.

Muhammad Munawar Ahmed

Department of Computer Science & IT, The Islamia University of Bahawalpur, Bahawalpur 63100, Pakistan.

Samreen Naeem

Department of Computer Science and IT, Glim Institute of Modern Studies, Bahawalpur, 61300, Pakistan.

Sania Anam

Department of Computer Science, Govt Degree College for Women Ahmadpur East, Bahawalpur 63350, Pakistan.

Farrukh Jamal

Department of Statistics, Govt. S.A Postgraduate College Dera Nawab Sahib, Bahawalpur, Punjab 63100, Pakistan.

Christophe Chesneau

Department of Mathematics, Université de Caen, LMNO, Campus II, Science 3, 14032 Caen, France.

Muhammad Zubair

Department of Computer Science & IT, The Islamia University of Bahawalpur, Bahawalpur 63100, Pakistan.

Muhammad Saqib Anees

Govt. Elementary School 7/BC, Bahawalpur, 61300, Pakistan
Keywords:
Machine Learning, Statistical Feature, Emotion, Facial Expression, Decision Tree Classifiers
Abstract
Background: Humans can deliver many emotions during a conversation. Facial expressions show information about emotions.
Objectives: This study proposed a Machine Learning (ML) approach based on a statistical analysis of emotion recognition using facial expression through a digital image.
Methodology: A total of 600 digital image datasets divided into 6 classes (Anger, Happy, Fear, Surprise, Sad, and Normal) was collected from publicly available Taiwan Facial Expression Images Database. In the first step, all images are converted into a gray level format and 4 Regions of Interest (ROIs) are created on each image, so the total image dataset gets divided in 2400 (600 x 4) sub-images. In the second step, 3 types of statistical features named texture, histogram, and binary feature are extracted from each ROIs. The third step is a statistical feature optimization using the best-first search algorithm. Lastly, an optimized statistical feature dataset is deployed on various ML classifiers.
Results: The analysis part was divided into two phases: firstly boosting algorithms-based ML classifiers (named as LogitBoost, AdaboostM1, and Stacking) which obtained 94.11%, 92.15%, and 89.21% accuracy, respectively. Secondly, decision tree algorithms named J48, Random Forest, and Random Committee were obtained with 97.05%, 93.14%, and 92.15% accuracy, respectively.
Conclusion: It was observed that decision tree based J48 classifiers gave 97.05% classification accuracy.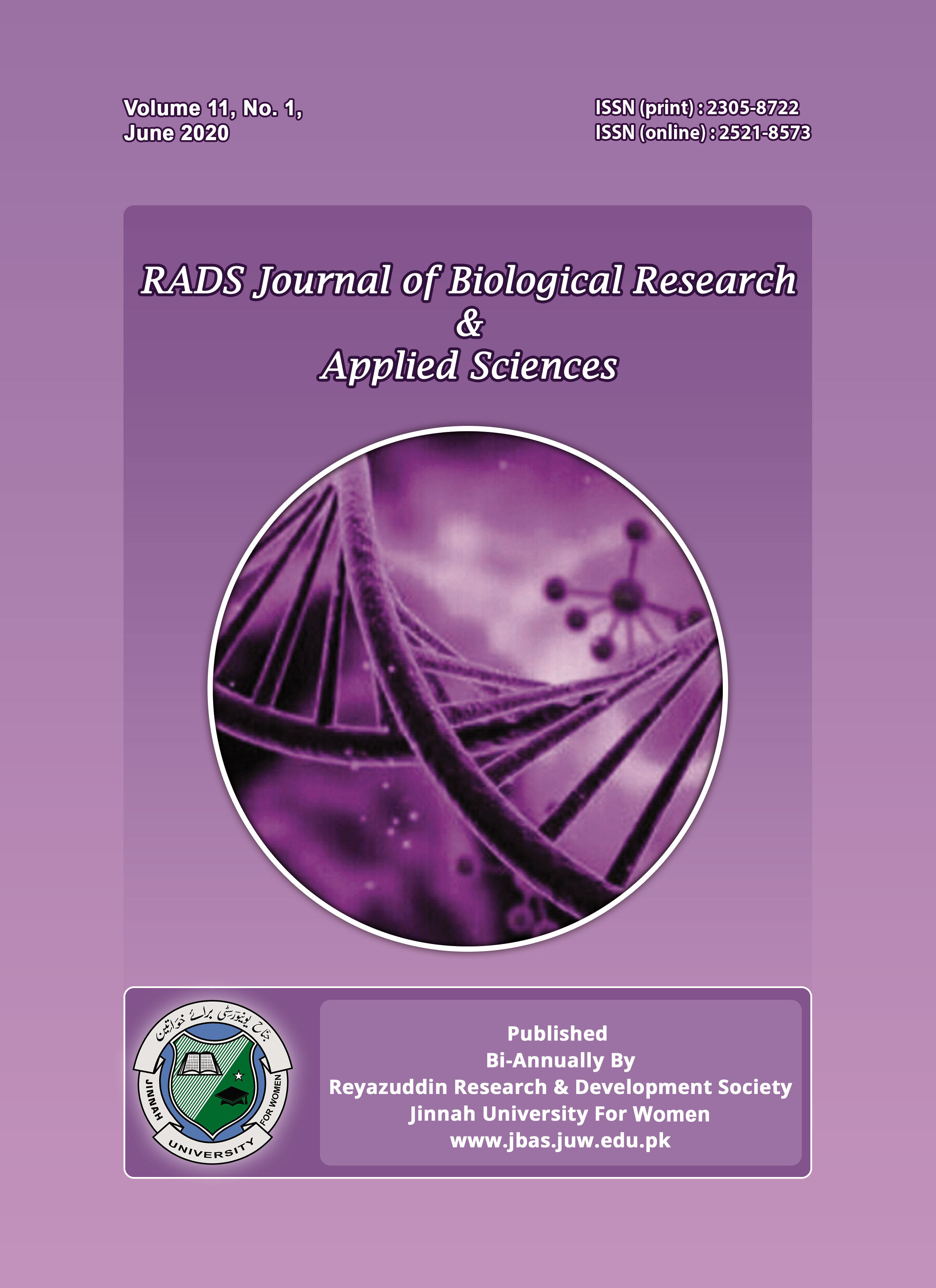 Copyright (c) 2020 RADS Journal of Biological Research & Applied Sciences
This work is licensed under a Creative Commons Attribution-NonCommercial 4.0 International License.

This is an Open Access article distributed under the terms of the Creative Commons Attribution License (http://creativecommons.org/licenses/by/4.0), which permits unrestricted use, distribution, and reproduction in any medium, provided the original work is properly cited.