A Study on Bacteriological Detection of Food-Borne Pathogens
Laraib Nadeem

Jinnah University for Women, Karachi Pakistan.

Hira Batool

Jinnah University for Women, Karachi Pakistan.
Abstract
This study was conducted to estimate the bacteriological quality of different fast food items. Standard microbiological methods were used for isolation, enumeration and identification of bacteria. A total of 9 samples were collected from different sources like: Fries, Roll paratha, Zinger burger and some bakery products like bread, Rusk, simple cake, and some fresh fruits sample were also used like orange, banana and apple. Bacteria were isolated by serial dilution technique. Then isolation and identification of bacteria perform by cultural characteristics on Blood agar and MacConkey agar. Gram staining, colony morphology and biochemical characteristics also performed for further confirmation. Four strains of pathogenic organisms were identified as E.coli 29%, Staphylococcus epidermidis 25%, Pseudomonas 25%, Staphylococcus aureus 42.85% and Bacillus subtilis 29%. Recent study concluded that fast food can lead to food poisoning and food borne illnesses. Heftiness is related with an expansion in respiratory issue. Obesity increases the likelihood of heart diseases, kidney disease, joint pains, high blood pressure and diabetes. Your kidney stone, kidney disease and stomach cancer risk may also increase due to the excess amount of sodium, and may also increase your risk of developing osteoporosis (thin, fragile bones).  The top risk factor for heart disease and stroke may cause due to the high cholesterol and high blood pressure. Chocolate and greasy foods were possessing high amount of carbohydrates increase blood sugar levels, they may also trigger acne. Fast food was identified as potential health hazards it can be proposed that satisfactory cleanliness rehearses are required in the wake of cooking the nourishments and furthermore before serving.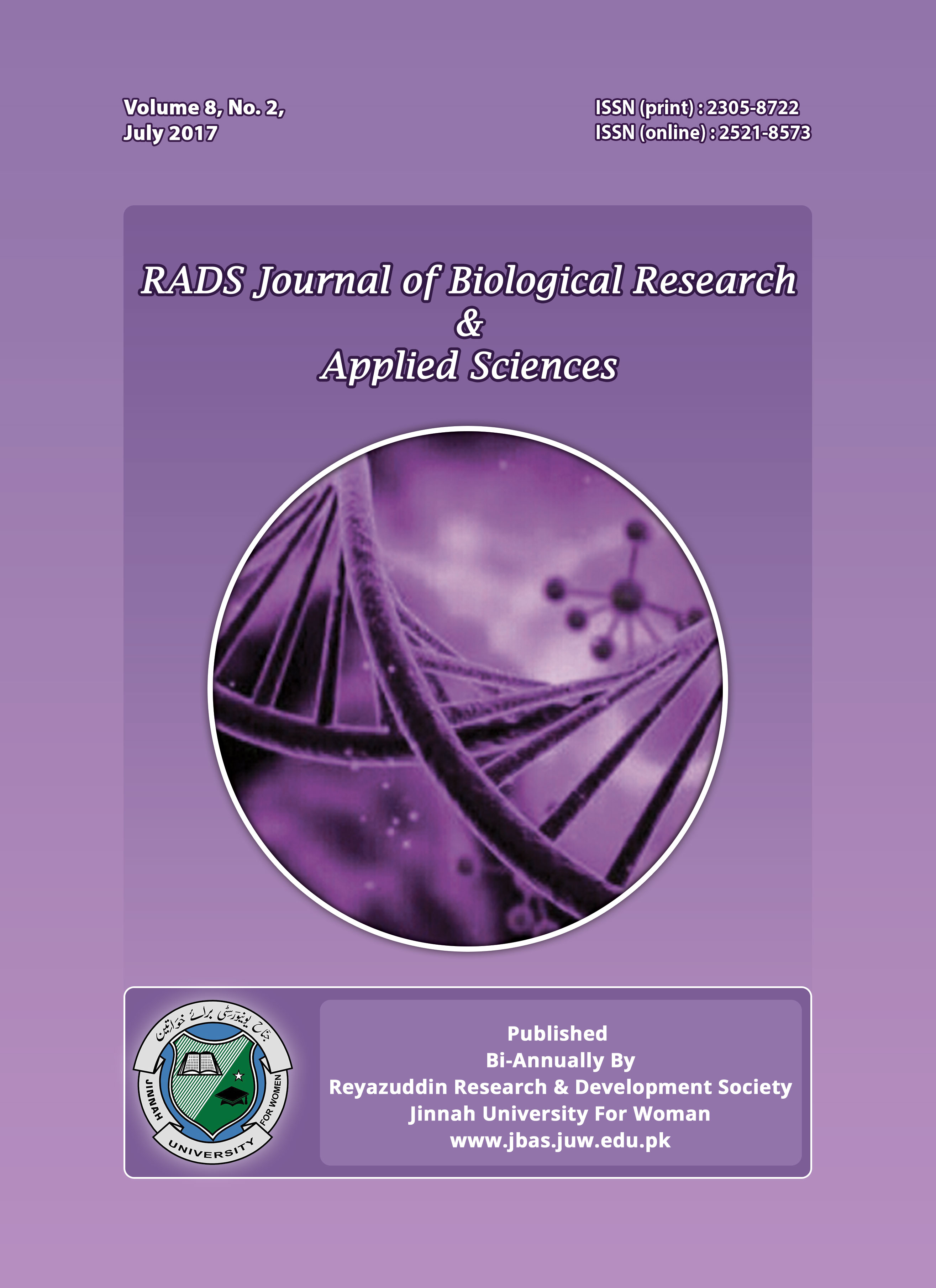 How to Cite
NADEEM, Laraib; BATOOL, Hira. A Study on Bacteriological Detection of Food-Borne Pathogens.
RADS Journal of Biological Research & Applied Sciences
, [S.l.], v. 8, n. 2, p. 11-14, dec. 2017. ISSN 2521-8573. Available at: <
http://jbas.juw.edu.pk/index.php/JBAS/article/view/92
>. Date accessed: 23 oct. 2018.
This work is licensed under a Creative Commons Attribution-NonCommercial 4.0 International License.

This is an Open Access article distributed under the terms of the Creative Commons Attribution License (http://creativecommons.org/licenses/by/4.0), which permits unrestricted use, distribution, and reproduction in any medium, provided the original work is properly cited.