Gut Microbiota Hypolipidemic Modulating Role in Diabetic Rats Fed with Fermented Parkia biglobosa (Fabaceae) Seeds
Olayinka Anthony Awoyinka

Department of Medical Biochemistry, College of Medicine, Ekiti State University Ado Ekiti Nigeri

Tola Racheal Omodara

Department of Microbiology, Faculty of Science, Ekiti State University, Ado Ekiti, Nigeria

Funmilola Comfort Oladele

Department of Medical Biochemistry, College of Medicine, Ekiti State University Ado Ekiti Nigeri

Margret Olutayo Alese

Department of Anatomy, College of Medicine, Ekiti State University, Nigeria

Elijah Olalekan Odesanmi

Department of Biochemistry, Faculty of Science, Ekiti State University, Ado Ekiti, Nigeria

David Daisi Ajayi

Department of Chemical Pathology, Ekiti State University Teaching Hospital, Ado Ekiti, Nigeria

Gbenga Sunday Adeleye

Department of Physiology, College of Medicine, Ekiti State University, Ado Ekiti, Nigeria

Precious Bisola Sedowo

Department of Microbiology, Faculty of Science, Ekiti State University, Ado Ekiti, Nigeria
Keywords:
Gut, Microbiota, Probiotics, Hypolipidemic, Bacillus subtilis, Diabetes.
Abstract
Background: Modulation and balancing of host gut microbiota by probiotics has been documented by several literature. Prebiotic diets such as locust beans have been known to encourage the occurrence of these beneficial microorganisms in the host gut.
Objectives: To study the modulating role of gut microbiota in the hypolipidemic effect of fermented locust beans on diabetic Albino Wister rats as animal models.
Methodology: Albino rats (Wistar strain), averagely weighing 125g were successfully induced with alloxan. Thereafter this induction, anti-diabetic treatment was carried out on various groups of rats by feeding them ad-libitum with a diet of milled fermented and unfermented Parkia biglobosa seeds, respectively.
Results: After three weeks of treatment, it was observed that fermented locust beans caused a significant reduction (p ≤ 0.05) in glucose, total triglycerides, total cholesterol and LDL, while the HDL levels were significantly elevated (p ≤ 0.05). Results of faecal analysis showed that the fermented locust beans modulated the gut microbiota through the occurrence of probiotic bacteria, Bacillus subtilis in the gut and faeces of the rats.
Conclusion: This study support that fermented locust beans is a prebiotic diet that encourages the growth of Bacillus subtilis in the gut of animals and is associated with hypolipidemic activities which alleviate diabetes as portrayed in these rat models.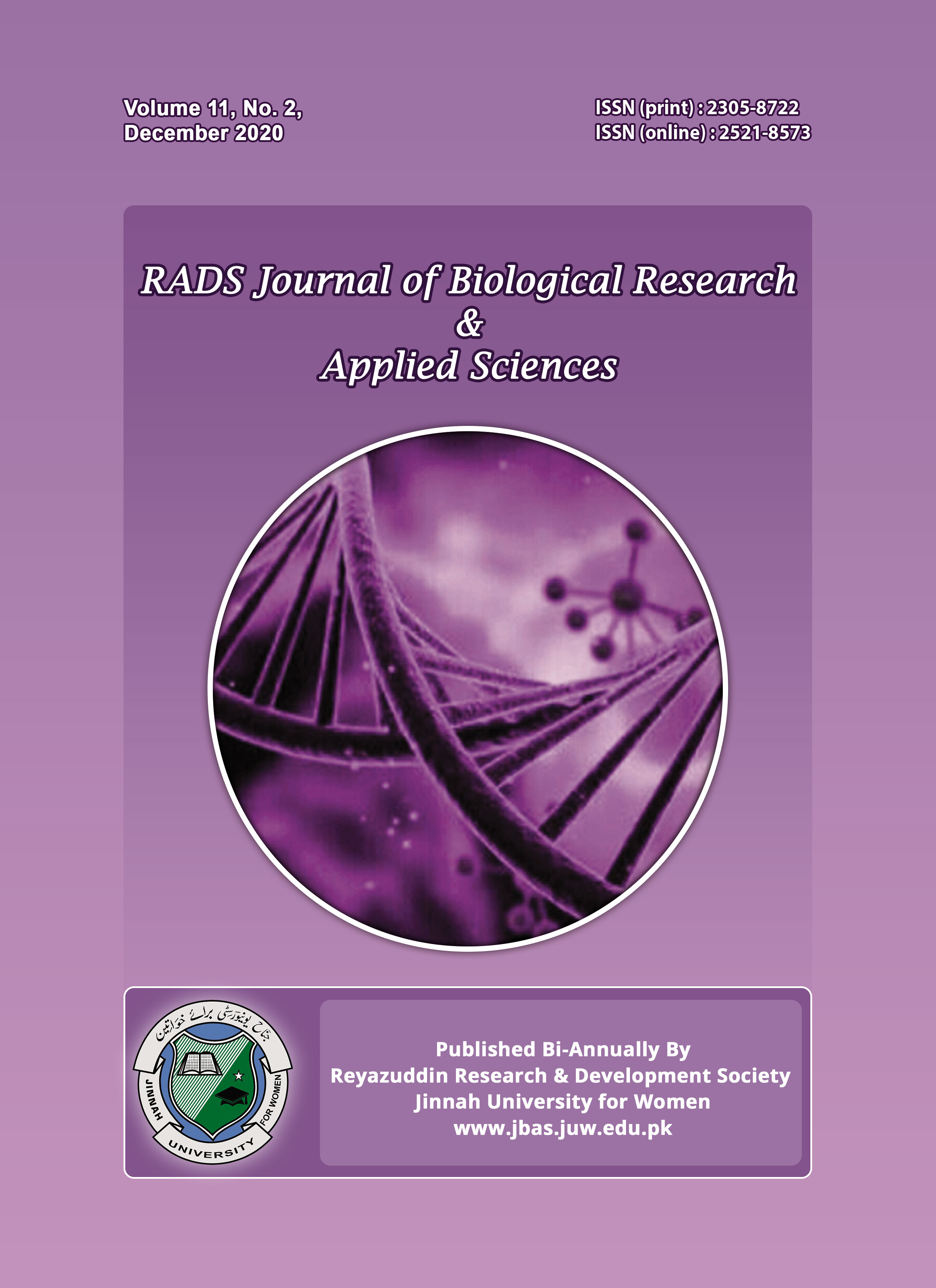 Copyright (c) 2021 RADS Journal of Biological Research & Applied Sciences
This work is licensed under a Creative Commons Attribution-NonCommercial 4.0 International License.

This is an Open Access article distributed under the terms of the Creative Commons Attribution License (http://creativecommons.org/licenses/by/4.0), which permits unrestricted use, distribution, and reproduction in any medium, provided the original work is properly cited.