Small Dense Low-Density Lipoprotein as Risk Factor for Atherosclerosis in Type 2 Diabetes Mellitus
Haji Muhammad Rashid

Department of Medical Lab Technology, University of Haripur, Khyber Pakhtunkhwa, Pakistan

Hiza Hassan

Department of Medical Lab Technology, University of Haripur, Khyber Pakhtunkhwa, Pakistan

Mudassar Khan

Department of Medical Lab Technology, University of Haripur, Khyber Pakhtunkhwa, Pakistan

Jamal Khan

Department of Medical Lab Technology, University of Haripur, Khyber Pakhtunkhwa, Pakistan

Hasanat Khan

Department of Medical Lab Technology, University of Haripur, Khyber Pakhtunkhwa, Pakistan
Keywords:
Small dense LDL-Cholesterol, T2DM, Dyslipidemia, Cardiovascular Diseases, Lipids Profile
Abstract
Background: Dyslipidemia is a common complication of diabetes and a major risk factor for atherosclerosis. Small dense low-density lipoprotein cholesterol (Sd-LDL-C) is a sub class of low-density lipoprotein cholesterol. Sd-LDL-C is highly atherogenic and it has been wildly studied in diabetic dyslipidemia.
Objectives: The study was carried out to explore the hidden risk of atherosclerosis due to variation of sd-LDL-C in Type 2 diabetic patients, whose lipid profiles were normal.
Methodology: We enrolled 126 T2DM patients and 126 age and sex matched normal controls in this study. Fasting lipid levels in normal range was the selection criteria for both groups. Hemoglobin A1c (HbA1c), Sd-LDL-C, Triglycerides (TG), Total-Cholesterol, Low-Density Lipoprotein (LDL) and High-Density Lipoprotein (HDL) were performed for both groups. Results were compared by two samples t-tests.
Results:  Sd-LDL-C levels (54.6 ± 10.2) in T2DM were significantly higher than control group (41.6 ± 8.4) with p value <0.00001. There was strong positive correlation (r2 = 0.591) between HbA1c and sd-LDL-C of T2DM patients.
Conclusion: T2DM patients even with normal lipids profile are at risk of atherosclerosis due to high level of atherogenic sd-LDL-C.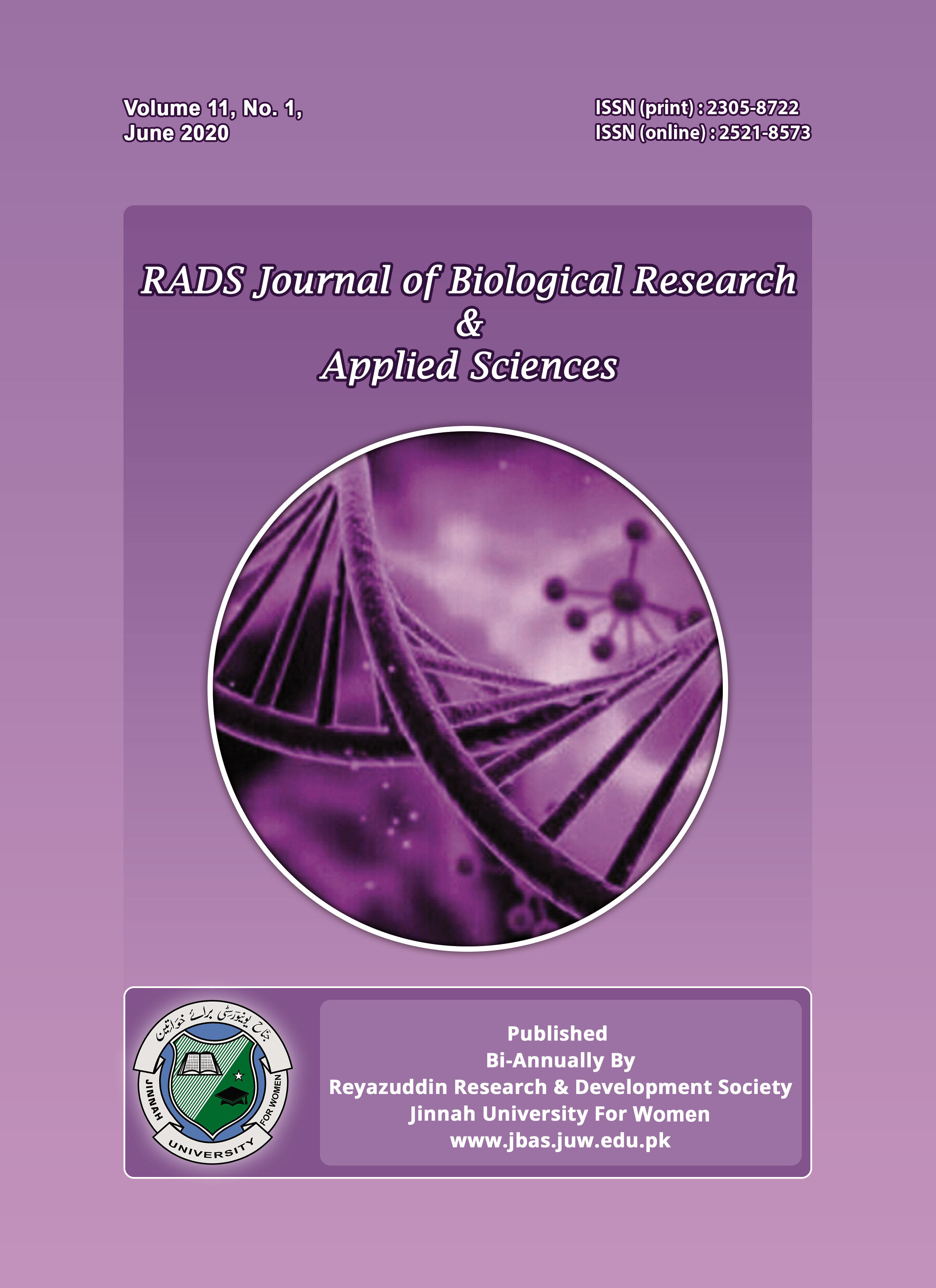 Copyright (c) 2020 RADS Journal of Biological Research & Applied Sciences
This work is licensed under a Creative Commons Attribution-NonCommercial 4.0 International License.

This is an Open Access article distributed under the terms of the Creative Commons Attribution License (http://creativecommons.org/licenses/by/4.0), which permits unrestricted use, distribution, and reproduction in any medium, provided the original work is properly cited.