Responses of Fig Cuttings (Ficus Carica) to Different Sowing Dates and Potting Media under Agro-Climatic Conditions of Haripur
Saad Mehmood

Department of Horticulture, University of Haripur, KPK, Pakistan

Qasim Ayub

Department of Horticulture, University of Haripur, KPK, Pakistan

Shah Masaud Khan

Department of Horticulture, University of Haripur, KPK, Pakistan

Nida Arif

Department of Horticulture, University of Haripur, KPK, Pakistan

Muhammad Jalal Khan

Department of Horticulture, University of Haripur, KPK, Pakistan

Abid Mehmood

Department of Agronomy, University of Haripur, KPK, Pakistan

Qammer Shahzad

Department of Food Science and Technology, University of Haripur, KPK, Pakistan

Naveed ul Haq

Department of Food Science and Technology, University of Haripur, KPK, Pakistan

Muhammad Tehseen Zaheer Tanoli

Department of Plant Breeding and Genetics, University of Haripur, KPK, Pakistan

Muhammad Umer Ayub

Department of Horticulture, University of Haripur, KPK, Pakistan
Keywords:
Asexual Propagation, Collection Dates, Cutting, Fig, Haripur, Media
Abstract
Background: Fig belongs to tropical and subtropical climates, and Haripur district being a subtropical area have great potential for successful commercial cultivation of figs. The most common method of fig propagation is by hardwood cutting, which is an easy and economical way of propagation. But lack of knowledge regarding suitable date of cutting collection and sowing and selection of appropriate potting medium severely limits the production of fig on a commercial scale.
Objectives: Current study was undertaken in order to identify suitable collecting dates of fig cuttings and to develop a suitable potting media for the successful establishment of fig cutting.
Methodology: The study was comprised of four different potting media i.e. Soil, Farmyard or Manure (FYM), Compost, Soil+FYM+Compost (1:1:1) and cuttings of fig cultivar Sawari were collected and sown on two different dates i.e. 1st January and 15th January in polyethene bags of uniform size. The experiment was laid in Complete Randomized Design (CRD).
Results: Results revealed that maximum Length of the root (9.8 cm), Shoot thickness (1.4 cm) and Number of leaves (4.1) were noted in FYM, whereas maximum days to Sprouting (18.5) and Survival percentage (82.3%) were noted in Soil+FYM+Compost (1:1:1). Whereas fig cutting sown on 15th January showed maximum Days to sprouting (18.8), Length of the root (9.4 cm), Survival percentage (87.1%), Shoot thickness (1.8cm) and Number of leaves (4.6).
Conclusion: It can be concluded that FYM and 15th January showed highest values of studied parameters.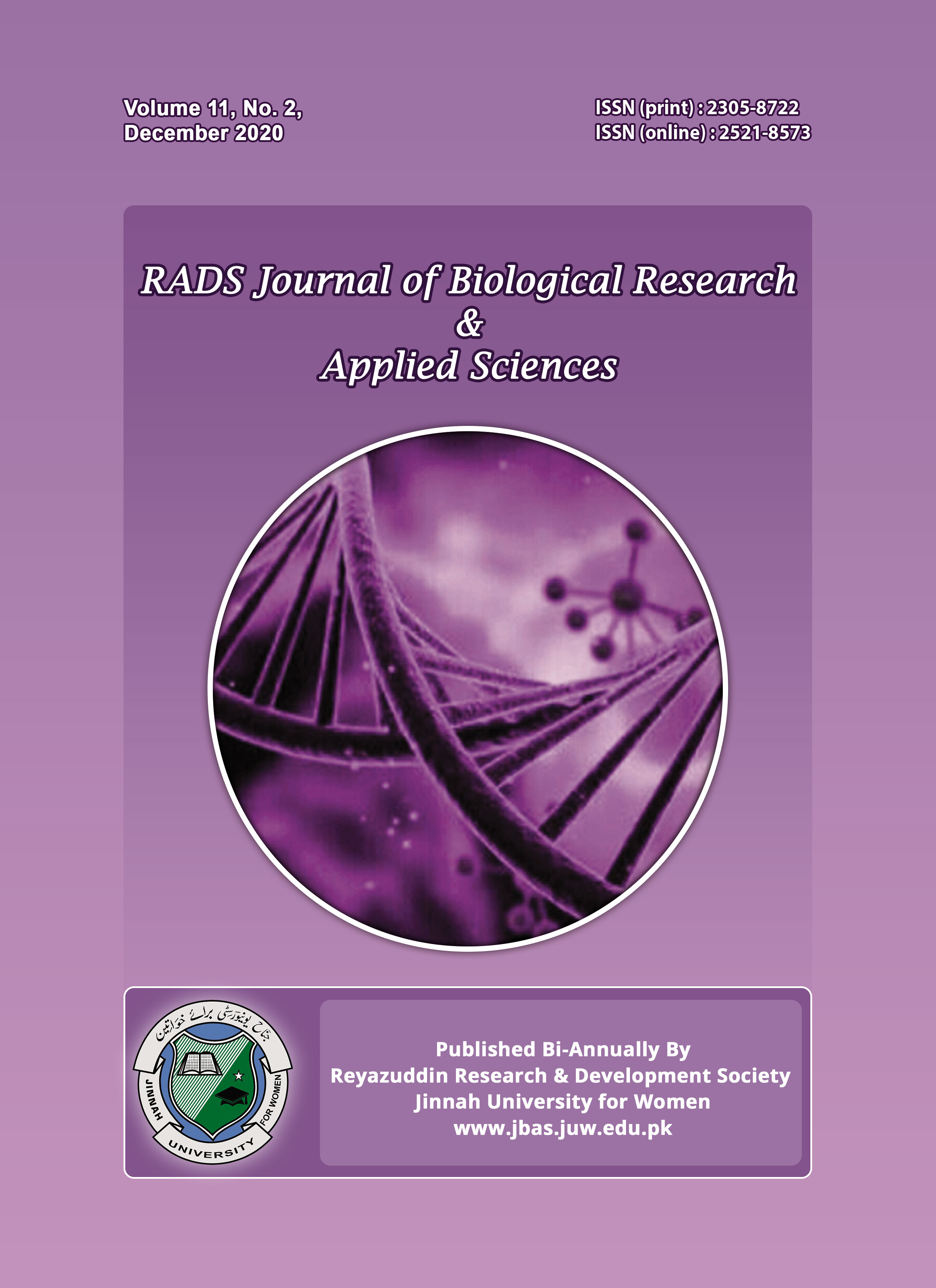 Copyright (c) 2021 RADS Journal of Biological Research & Applied Sciences
This work is licensed under a Creative Commons Attribution-NonCommercial 4.0 International License.

This is an Open Access article distributed under the terms of the Creative Commons Attribution License (http://creativecommons.org/licenses/by/4.0), which permits unrestricted use, distribution, and reproduction in any medium, provided the original work is properly cited.