Characterization of Multidrug Resistant Bacteria Isolated from Hospital Environment
Saba Irshad

Humaira Yasmeen
Keywords:
Bacillus spp., Staphylococcus ssp., MDR, hospital waste.
Abstract
Background: Unveiling of multidrug resistance in bacteria is becoming a global concern. It contributes as a main financial burden to treat infectious diseases especially in developing countries.
Objectives: This study was designed to determine the prevalence and resistance pattern of multidrug resistant bacteria from hospital soil.
Methodology: Using random soil sampling technique, bacterial isolates were obtained through dilution plate method. Antimicrobial screening of isolates was performed by Kirby Bauer disc diffusion method against a panel of 14 known antibiotics. Furthermore, strains were biochemically identified following Bergey's Manual of Determinative Bacteriology.
Results: A total of 44 isolates were successfully identified from 4 soil samples of different waste areas of hospital from Multan region. Bacillus spp. and Staphylococcus ssp. were prominent isolates in all the sites. Resistance among Bacillus spp. was high against ampicillin (91%) and in Staphylococcus spp. against tetracycline (78%). Out of total strains, 35 were found to be multidrug resistant.
Conclusion: Presence of drug residue in the hospital waste contributes to its resistance in bacteria. A substantial increase of multidrug resistance in hospital waste demands an effective management against drugs.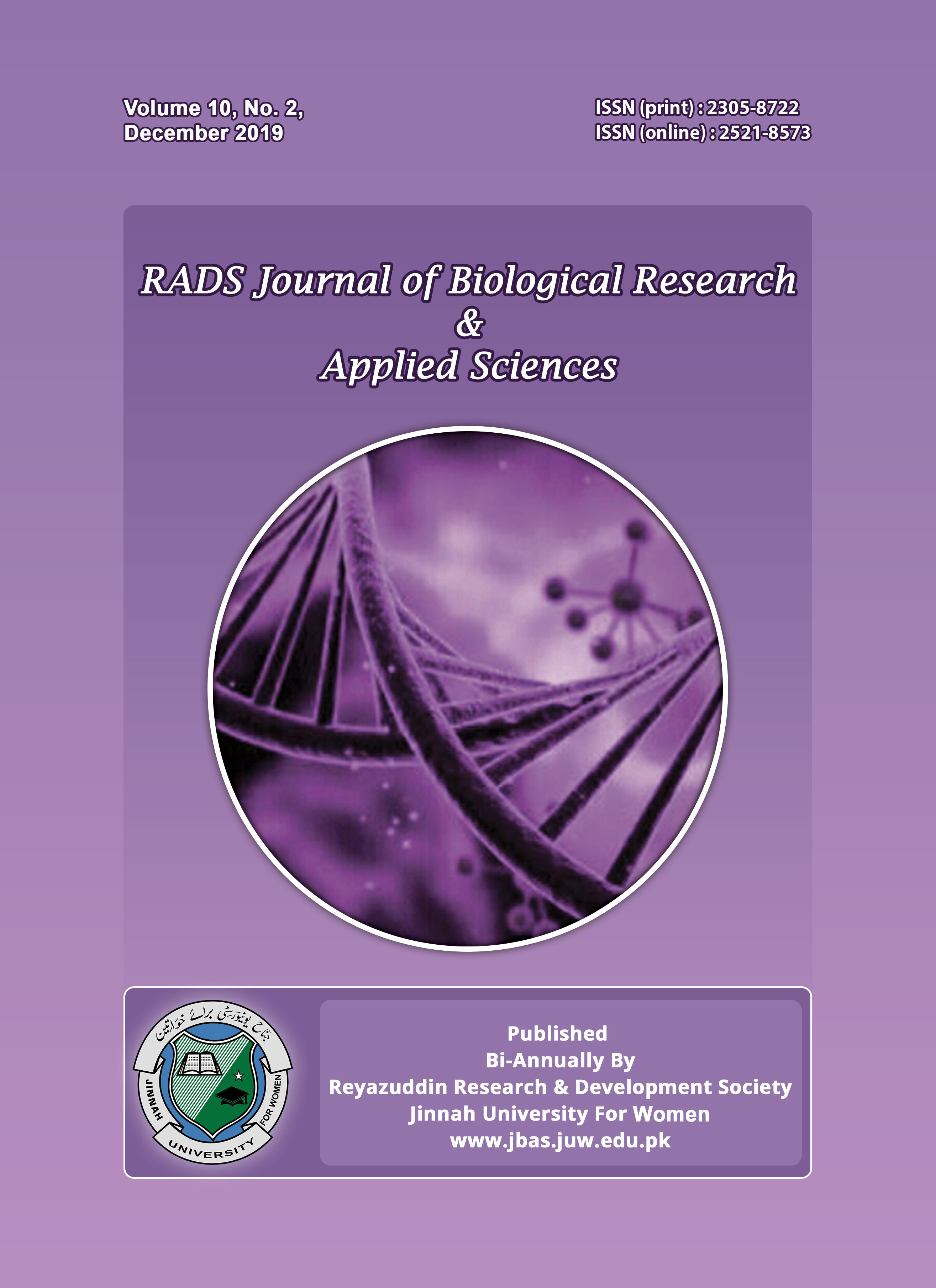 Copyright (c) 2020 RADS Journal of Biological Research & Applied Sciences
This work is licensed under a Creative Commons Attribution-NonCommercial 4.0 International License.

This is an Open Access article distributed under the terms of the Creative Commons Attribution License (http://creativecommons.org/licenses/by/4.0), which permits unrestricted use, distribution, and reproduction in any medium, provided the original work is properly cited.