Consequences of Microwave Electromagnetic Radiation Exposure on Germination and Free Proline Content of Green Gram and Red Bean
Saima Ibrahim

Department of Botany, Jinnah University for Women, Karachi, Pakistan

Yasra Bashir

Department of Botany, Jinnah University for Women, Karachi, Pakistan

Salma Zaki

Department of Botany, Jinnah University for Women, Karachi, Pakistan

Samia Mehmood

Department of Botany, Jinnah University for Women, Karachi, Pakistan

Umul Mustafa

Department of Botany, Jinnah University for Women, Karachi, Pakistan

Afreen Khanum

Department of Botany, Jinnah University for Women, Karachi, Pakistan

Kainat Ishtiaq

Department of Botany, Jinnah University for Women, Karachi, Pakistan

Fabiha Maheen

Department of Botany, Jinnah University for Women, Karachi, Pakistan

Amber Rehmat

Department of Botany, Jinnah University for Women, Karachi, Pakistan
Keywords:
Vigna radiata, Phaseolus vulgaris, Electromagnetic radiation, Dormancy, Seed coat, Proline content
Abstract
Background: Plants are crucial key component of well-formed ecosystem and have significant role in the living world, therefore, it would be helpful to scrutinize their interaction with variable radio and microwave frequency fields.
Objectives: A laboratory test was conducted in October 2018 in the Department of Botany, Jinnah University for Women, Karachi to investigate the microwave radiation influence on plant development, and clarify the mechanisms of energy exchange and stimulation of plant development. The experiment was laid down at completely randomize design to evaluate the effect of microwave electromagnetic radiation at different durations of time on seed germination and free proline content (stress indicators) in green gram (Vigna radiata. L) and red bean (Phaseolus vulgaris. L) seedlings.
Methodology: Seeds were treated with three different time periods of microwave radiation (5, 15 & 30sec).  Control seeds were not treated.
Results: The analysis of obtained data showed that the differential exposure of microwave had significant effect on germination rate, germination percentage and free proline content of both plants. The exposed electromagnetic radiation improved the germination rate in both types of seed along with improved germination percentages. Proline contents of both plants also markedly responded with electromagnetic radiation and proved themselves a responsive stress indicator with differential radiation exposures.
Conclusion: The 15sec exposure of microwave radiation enhanced germination in green gram seeds, while 30sec exposure improved red bean seed germination along with breaking dormancy effect of hard seed coat. Therefore, the technique provides a quick and effective method of treatment especially for the seeds having an impermeable seed coat.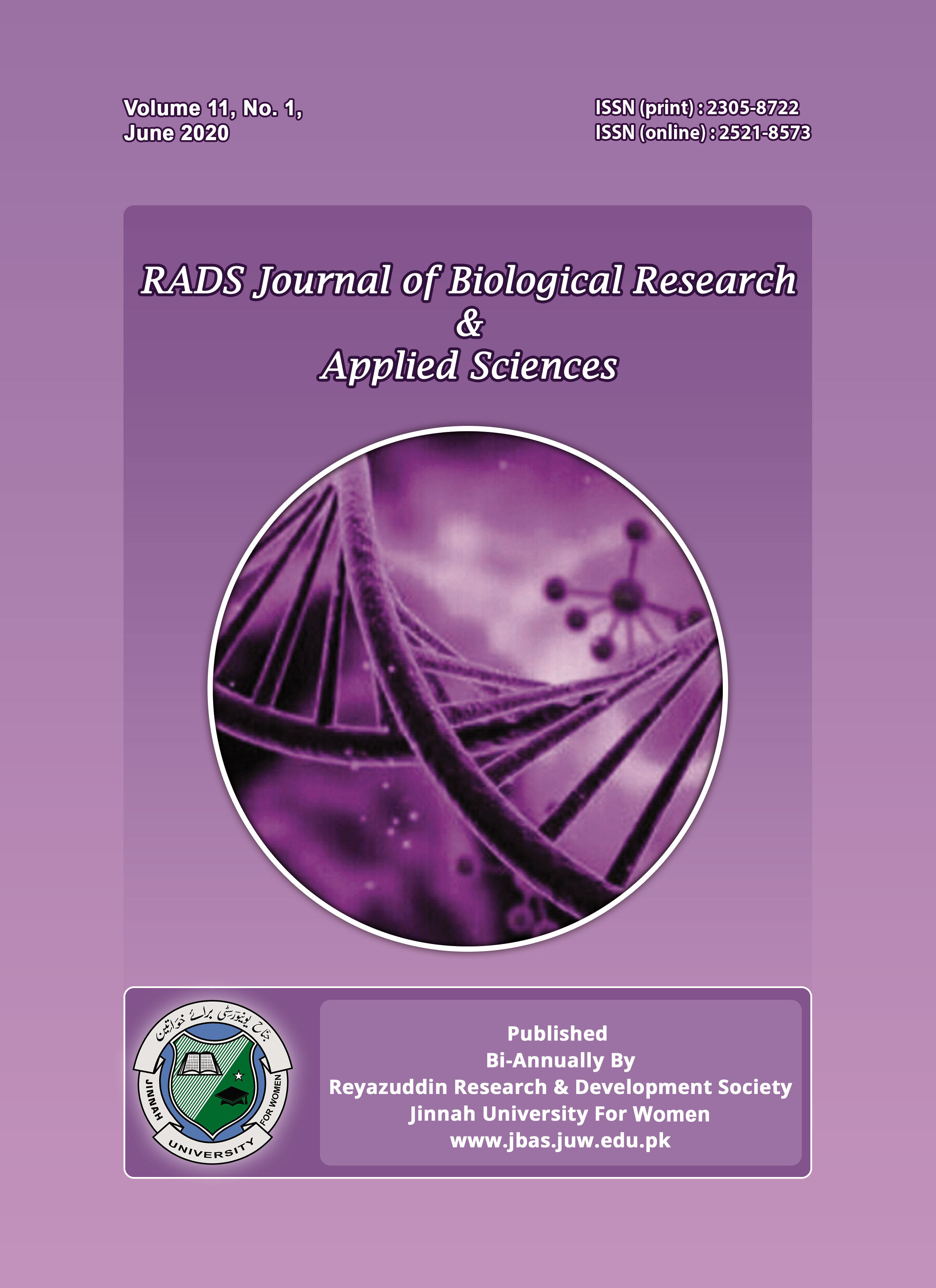 Copyright (c) 2020 RADS Journal of Biological Research & Applied Sciences
This work is licensed under a Creative Commons Attribution-NonCommercial 4.0 International License.

This is an Open Access article distributed under the terms of the Creative Commons Attribution License (http://creativecommons.org/licenses/by/4.0), which permits unrestricted use, distribution, and reproduction in any medium, provided the original work is properly cited.